Chef Neil Murphy
Executive Chef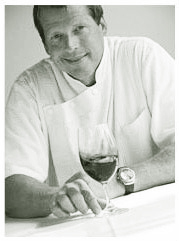 I arrived on the Big Island of Hawaii in April of 2007. After years of working in New York City, making great money and working at great restaurants, I felt stuck in a rut. I was ready for a life change. I realized the last time I felt happy was when I was living in Hawaii back in the 70's and early 80's.
While in Hawaii, I used to surf, fish and hang out at the beach. I relished the warm trade winds and breathtaking scenery, but it was the Aloha Spirit that moved me to return. I came back to Hawaii to recreate what I had fallen in love with, but this time as a professional chef.
I began working at Merriman's flagship restaurant on the Big Island, located in the middle of farm country. There were cattle, sheep and pig farms, as well as fields of earth grown produce. I was cooking in a chef's paradise! At that time, the farm to table movement was just starting to get traction in New York, so I was stoked to see that the concept was the philosophy at Merriman's, and had been for many years.
Being new, I wanted to connect to the community, and my first contacts were the farmers. I used to hang out at Richard Nakano's farm and talk story for hours. Richard always had a secret stash of personal produce he grew for just his family. He would say, "try this, it's not very good", and it would be the best corn or young ginger I had ever tasted! Other farmers would share their vegetables and stories as well. I felt humbled by the generosity and aloha from my new friends.
Hiking became a favorite pastime of mine. While exploring the rocks down at Kawaihae, I found natural bowls carved into the rocks with dried sea salt. It was so flavorful and fragrant I started harvesting it. The salt had little bits of seaweed and crab inside which added to the flavor in an extraordinary way. My experiences like these are endless. Hawaii is a chef's playground.
In time, the treasures I foraged helped my cooking become the best on the Big Island. My cooking became connected to all these farmers and places I knew. I learned to have gratitude for where I live and work and began to understand my responsibility as steward of this wonderful restaurant group. To connect my food with the farmers, their families, my coworkers and the community.
I currently live on Maui and Merriman's has provided me with the opportunity to be its corporate executive chef. We have restaurants on four islands, which I visit monthly.